Labour condemns 'out of touch' Tory advice for people to buy value bra…
Labour says Eustice's value brands advice shows government has no solution to cost of living crisis
Labour says George Eustice's comments about how people can help to cope with rising prices by buying value brands (own brands), instead of branded products, in supermarkets (see 9.14am) shows the government is "woefully out of touch" and has no solution to the cost of living crisis. This is from Pat McFadden, the shadow chief secretary to the Treasury.
This is woefully out of touch from a government with no solution to the cost of living crisis facing working people.

People are seeing their wages fall, fuel and food costs rise, and families are worried about how to make ends meet.

It's time for the government to get real help to people instead of comments that simply expose how little they understand about the real struggles people are facing to pay their bills.
The SNP says George Eustice's comment advising people having difficulty with the cost of living (see 9.14am) to buy own brand products is insulting. In a statement Kirsten Oswald, the party's deputy leader at Westminster, said:
The remarks from a senior Tory government minister that families struggling with the Tory-made cost-of-living crisis should buy value brand products are utterly patronising and insulting.

The Tories have once again shown how out of touch they are with the challenges facing households – with rising prices and bills piling on the pressure and pushing people over the brink.
Elon Musk invited to give evidence to Commons culture committee about his buy of Twitter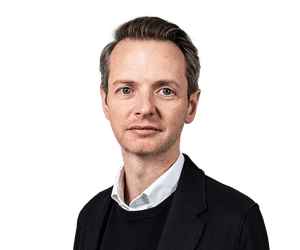 Ben Quinn
Elon Musk has been invited to appear before parliament's digital, culture, media and sport (DCMS) committee to answer questions from MPs about his acquisition of Twitter.
The committee's chair, Conservative MP Julian Knight, said:
At a time when social media companies confront the prospect of tighter regulations around the world, we're keen to learn more about how Mr Musk will balance his clear commitment to free speech with new obligations to protect Twitter's users from online harms.

Appearing before the committee will give Mr Musk an ideal opportunity to set out his proposals for Twitter in more thoroughness and we would look forward to welcoming him.
The committee published a letter which was sent last week to the Californian headquarters of Tesla, the company owned by Musk. The mogul does not appear to have responded publicly to the invitation, including on Twitter.
Musk – whose $44bn (£34.5bn) acquisition offer was accepted by Twitter's board last month – has been outspoken about his desire to promote what he regarded as free speech on Twitter, saying that he is "against censorship that goes far beyond the law".
"If people want less free speech, they will ask government to pass laws to that effect," Musk additional. "consequently, going beyond the law is contrary to the will of the people."
His statements have been interpreted as criticism of Twitter's existing moderation policies, particularly those that have affected the US right.
Savanta ComRes has published some new polling on voting intention in Scottish parliaement elections. Here are the figures for the constituency section.
And here are the figures for the list section.
Chris Hopkins from Savanta ComRes says, in the constituency results, Labour has its biggest rule over the Conservatives since 2015. He says:
Labour's large rule over the Conservatives in second place of both the constituency and list Holyrood VIs [voting intentions] are certainly eye-catching, but as with almost everything related to Labour at the moment, it feels like a rule more to do with the fortunes of the Conservatives than anything Labour are doing especially well.

The Conservative's Westminster fortunes have taken a battering since Partygate, but it appears that the cost of living crisis has turned Scottish voters away from the party, and with there doubtful to be any cure to many voters' concerns about the affordability of basic items needed to live on the horizon, it's possible things could get worse for the Conservatives before they get better – including on Thursday in the local elections.
The i's Paul Waugh says there is speculation about Boris Johnson holding a possible reshuffle after the local elections.
These sorts of rumours often surface ahead of a moment of peril for the PM. Government whips find that, if an MP is considering writing a letter calling for a leadership contest, sometimes the prospect of promotion can rule to a rethink.
But these reshuffles often never happen. Reshuffles are dangerous too, because for every minister promoted, another has been sacked and demoted, giving them their own reason for turning against the PM.
Keir Starmer claimed this morning that BP's admission that a windfall tax would not affect the company's investment in the UK destroyed the government's meaningful argument against the proposal. (See 9.59am.)
But when George Eustice, the ecosystem secretary, was asked about this on the Today programme, he argued that what BP is saying might not apply to the energy industry as a whole. He said:
Rishi Sunak has to design a tax system for the sector as a whole, not what one individual company might say when posed a particular question …

That's the judgment that truly Rishi Sunak has taken at the moment, that there's a risk that you would not get the investment in the North Sea.

And, during the change to net zero, having our own oil and gas reserves continuing to flow is going to be important. We've learned in recent months the perils of being over-dependent on other countries for your oil and gas. And so it's important that we have that investment.
The Liberal Democrats have accused Boris Johnson of largely ignoring the south of England during the local elections campaign. In an open letter to the PM, Daisy Cooper, the deputy Lib Dem leader, claimed this was a snub to the "blue wall" (Tory constituencies unprotected to the opposition, particularly the Lib Dems). She said:
If your attitude towards blue wall voters wasn't clear enough, your local election campaign has made it plain for all to see: I understand you are not already bothering to visit towns, villages and cities in the south of England.

You are nowhere to be found in blue wall communities which are fed up of being ignored and taken for granted.

Actions speak louder than words, chief minister. Your no-show in this election is an insult to millions of people.
The letter may be badly timed. Today Johnson is due to be in Eastleigh, in Hampshire – typical "blue wall" territory.
Starmer says police have not approached him recently about lockdown meal with beer
And here are the main points from Keir Starmer's Good Morning Britain interview on so-called Beergate.
Starmer said that Durham police have not been in touch with him recently about the incident where he drank beer and ate food with Labour colleagues at the end of a day campaigning on 30 April last year. Yesterday Starmer refused to answer this question in an interview, generating some dire headlines today. Nadine Dorries, the culture secretary, posted the Daily Mail's front page on Twitter last night.
Today, when asked if the police had been in touch recently, Starmer replied:
No. I think they put out a statement last week saying they're not reinvestigating and they haven't spoken to me.
Starmer's refusal to answer the question yesterday was strange, because his aides were willing to confirm that Durham police had not contacted him recently. Durham police looked at this earlier this year and said the gathering was within the rules.
Starmer did not deny a report in the Sun today saying that enough takeaway food to satisfy up to 30 people was ordered for the late-night gathering.
He defended what happened, saying that the gathering was within the rules because it was just people eating at the end of a working day. He said:
We're on the road. At the end of the day we're in the office preparing. Now that evening, from memory we were doing an online event for members …

At some point, this was in the evening, everybody's hungry and a takeaway was ordered. It was then delivered to the kitchen of the offices …

In Durham, all restaurants and pubs were closed, so takeaways really were the only way you could eat. So this was brought in and at various points people went by to the kitchen and had something to eat, and got on with their work.
The Tories have been trying to argue that "Beergate" is equivalent to Partygate. This is from Dorries, one of Boris Johnson's staunchest supporters on this (and almost everything else).
In one respect there is an equivalence. In Downing Street there were occasions during lockdown when people did eat food and drink alcohol as part of their working routine. One good example was the wine and cheese event in the Downing Street garden on 15 May 2020, a photo of which was published by the Guardian.
Sue Gray considered this event in her investigation. But, as she explained in her update, this event (and three others) were not referred to the police because there was not sufficient evidence to show that they were against the rules.
As my colleague Peter Walker explains, the police have already come to the same conclusion about the Labour meal in Durham.
Starmer says he does not think £12bn from national insurance hike will ever go to social care
Here are some more policy lines from Keir Starmer's interview with Good Morning Britain this morning.
Starmer said that the oil company BP had blown Boris Johnson's arguments against a windfall tax "out of the water". Starmer was referring to Bernard Looney, BP's chief executive. The government claims that a windfall tax on energy companies, as hypothesizedv by Labour, would discourage investment by energy companies. But Looney told the Times that his company would continue with plans to invest up to £18bn in the UK already if a windfall tax were introduced. Asked what investments BP would cancel, he said: "There are none that we wouldn't do." Commenting on this statement, Starmer said:
He basically blew the chief minister's defence out of the water with that.
Defending Labour's plans for the windfall tax, Starmer said:
What we have seen is oil and gas companies in the North Sea make record profits because the global price is so high. So, over and above what they expect it to make, they've made much more money – in their own words, more money than they know what to do with.

What we've said is you should have a windfall tax on that excess profit and use that to help people with their energy bills by up to £600 for those that need it most.
Starmer said he did not think the £12bn a year raised by the national insurance increase would ever go towards social care. The government plans to use the money ultimately to enhance the social care system, but first it will use it on cutting the waiting list backlog in the NHS. Starmer said:
I don't think, by the way, it will ever get to social care.
He also claimed the money would be used to compensate for the money lost to fraud during the pandemic. He said:
The interesting and the really important thing, and the thing that makes me pretty angry, is during the pandemic the fraud and the contracts that didn't deliver amounted to £11.8bn cost. The truth is that will be used to backfill that black hole.
He rejected claims from the Conservatives that Labour had entered an informal electoral pact with the Liberal Democrats ahead of the local elections, with each side not putting up complete slates of candidates in places where the other has the best chance of beating the Tories. He also criticised Oliver Dowden, the Conservative party co-chair, for making the allegation in the first place. Asked if there was a pact, Starmer replied:
No, we haven't and we are truly standing more candidates in this election than any other party. and more than we've stood for many years. We haven't got a pact with the Lib Dems.

Firstly, I'm afraid I don't take what Oliver Dowden says very seriously these days, but the fact that a few days before the local elections the only thing he wants to talk about is a Lib Dem/Labour pact instead of the issue which is the cost of living tells you everything about a government that's absolutely out of ideas and is completely out of touch.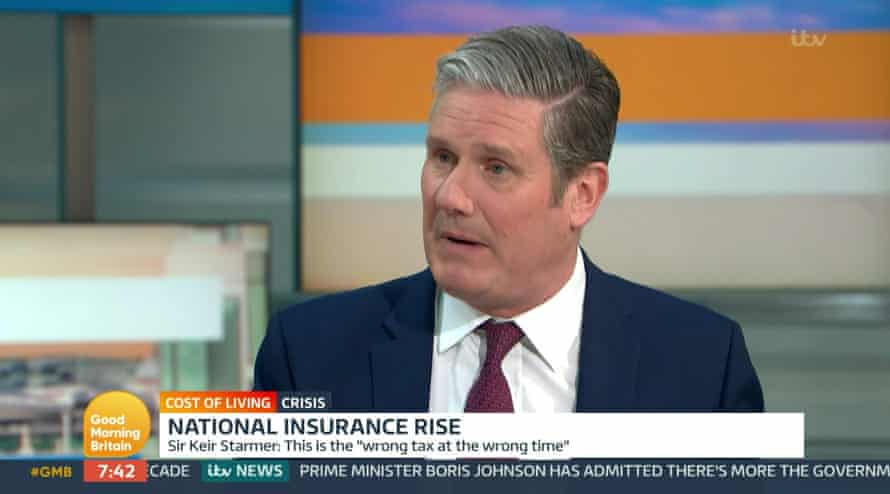 Johnson says people are 'feeling the pinch' as cost of living rises
Yesterday, after his Good Morning Britain interview, Boris Johnson was accused of not fully appreciating how bad the cost of living crisis is for many people.
He has written about the subject in an article today for the Daily Express. But this may also rule to claims that he is minimising the seriousness of the problem because he talks about people "feeling the pinch". He says:
I know that families across the country are feeling the pinch as the cost of living rises.

That's why we're focused on growing the economy to address the cost of living, and it's why keeping bills down and cutting council waste is more important than ever.
This seems an understatement. In March the Resolution Foundation thinktank said the cost of living crisis could push an additional 1.3 million people into absolute poverty next year.
Labour has been damning about Johnson, but perhaps not as damning as the unnamed Tory former cabinet minister quoted in a Guardian story today by Heather Stewart, Rowena Mason and Jessica Elgot. The former cabinet minister said:
[The PM's Good Morning Britain interview yesterday] won't have won us many votes. Boris doesn't truly care about these people. He basically despises most of the human race, so that makes it quite difficult for him to sympathise.
The complete story is here.
Labour says Eustice's value brands advice shows government has no solution to cost of living crisis
Labour says George Eustice's comments about how people can help to cope with rising prices by buying value brands (own brands), instead of branded products, in supermarkets (see 9.14am) shows the government is "woefully out of touch" and has no solution to the cost of living crisis. This is from Pat McFadden, the shadow chief secretary to the Treasury.
This is woefully out of touch from a government with no solution to the cost of living crisis facing working people.

People are seeing their wages fall, fuel and food costs rise, and families are worried about how to make ends meet.

It's time for the government to get real help to people instead of comments that simply expose how little they understand about the real struggles people are facing to pay their bills.
Britons should buy value brands to cope with living cost crisis, says George Eustice
Shoppers can deal with soaring food prices and cope with the cost of living crisis by choosing value brands in the supermarket, George Eustice, the ecosystem secretary, has suggested. My colleague Rowena Mason has the story here.
And here is the clip.
Starmer refuses to say Labour will reverse national insurance hike at general election
Good morning. Boris Johnson received the Good Morning Britain treatment yesterday, and today it was Keir Starmer's turn. Predictably he was asked about so-called Beergate (a Tory press obsession to establish equivalence with Partygate – so far unconvincincly, as my colleague Peter Walker explains here), but there was some proper policy in the interview too.
Labour decided to oppose the £12bn annual national insurance increase when the government announced it last year. That was a slightly risky decision, given that the revenue is earmarked for health and social care (scarce examples of popular public spending priorities), but the decision has allowed Labour to outflank the Conservatives in recent months as a low-tax party. Labour now has its biggest rule over the Tories as the party that is best on taxation for 10 years.
But this approach does create a fresh problem because it method Labour will have to go into the next election either explaining where else it will find the £12bn to cover this spending, or performing a U-turn and accepting the increase after all. Starmer was asked in the interview if Labour would nevertheless be committed to reversing the increase at the time of the election. He refused to give that commitment, explaining it was too soon to say. He said:
In terms of what we will do going into the next election, clearly, I don't know what the state of the economy will then be. Nobody knows what the state of the economy will then be. We will set out our plans when we get to the election in complete.

We've set out the principles that we will apply. It will be a fair taxation system, particularly for working people.
Asked if he would raise the top rate of income tax (one method of recouping some or all of the £12bn), Starmer said again Labour would set this out before the next election.
You're absolutely right to push me. But the leader of the opposition, two years away from an election, not knowing what's going to happen to the economy, can't possibly set out in detail what we will do.
The Conservatives are claiming that it is "extraordinary" that Starmer won't commit to definitely reversing the national insurance hike up to the general election. This is from Simon Clarke, chief secretary to the Treasury.
I will post more from the interview shortly.
Today is the last day of campaigning before the local elections. All the main party leaders are out doing media events. Boris Johnson is visiting Eastleigh, and Starmer is in Wakefield.
I try to monitor the comments below the line (BTL) but it is impossible to read them all. If you have a direct question, do include "Andrew" in it somewhere and I'm more likely to find it. I do try to answer questions, and if they are of general interest, I will post the question and reply above the line (ATL), although I can't potential to do this for everyone.
If you want to attract my attention quickly, it is probably better to use Twitter. I'm on @AndrewSparrow.
Alternatively, you can email me at [email protected]


Click: See details