Ashes 2021-22 fourth Test, day one: Australia v England – live! | Spor…
01:42
38th over: Australia 110-1 (Harris 37, Labuschagne 24) The sun is fully out at last, decorating Anderson with a shrinking shadow that scuttles under his feet. He doesn't exactly trouble Labuschagne, but worries him. Just two off the final ball.
"Morning Tanya and morning all those on GMT." Hello Em Jackson!
"Andy Zaltzman on TMS just read out stats for Ben Stokes saying he's averaging 60 with the ball in Aus for this Test . , . . . so what is Stokes truly balancing out this Series by his inclusion?"
It's not been his best tour: whether it is rustiness or a fragility to the body I can't tell you. I'd wager, not the time to hand him the Test captaincy. Discuss.
01:36
37th over: Australia 108-1 (Harris 37, Labuschagne 22) And Leach does get his chance. He dries his hands in the dust at the crease. Harris picks up one after a Stokes misfield. Against Labuschagne, there are four fielders in the thorough, they must think he can't resist. And that didn't look a bad first over to me; and on the telly, the experts like it. DRINKS with a blueish sky watching over.
01:30
36th over: Australia 106-1 (Harris 36, Labuschagne 21) Anderson has had a brutal visit to the hairdressers, short on top, fierce on the sides. He sends now a metronomical maiden.
01:26
35th over: Australia 106-1 (Harris 36, Labuschagne 21) Beautiful from Harris: a short, fat one from Stokes is pushed off the back foot, on his tip toes, for four. Beaten off the next ball.
01:23
34th over: Australia 102-1 (Harris 32, Labuschagne 21)I think play can continue till 8am GMT if the light holds. We get a peak at Haseeb Hameed's new haircut, just a ruffle poking out from the back of his cap. Beard is now longer than hair. Anyway: Anderson is quite fierce this over, but Labuschagne leaves with perfect judgement and elaborate sound effects, then picks up a associate by the covers off the last ball.
Updated

01:16
33rd over: Australia 100-1 (Harris 32, Labuschagne 19) Stokes is the switch for general. Labuschagne brings up the hundred with a nurdle to the mid-wicket border which is just cut off by a diving Jack Leach. Talking of whom – time for a little bowl. Surely?
01:12
32nd over: Australia 92-1 (Harris 32, Labuschagne 16) A jitter, a judder, then a beautiful additional-cover excursion from Harris for four.
"Is trousers that show a fair amount of sock!' a euphemism? The children are not awake here in addition, it's safe to answer." NO Kim Thonger. NO!!!!! "I'm ready to pronounce this game a draw by the way. already England will struggle to collapse twice on this pitch, won't they? Won't they?"
Do you really need me to answer this?
01:08
31st over: Australia 92-1 (Harris 28, Labuschagne 16) general continues, let's see what the old dogs can do in tandem. Labuschagne plays and misses again, one that jags away past the bat, but seems thoroughly unbothered. A maiden.
"Did anyone else just wake up, see Australia are only 80/1 and assume England had been bowled out for 50?" An thoroughly natural reaction, Peter Salmon.
01:04
30th over: Australia 92-1 (Harris 28, Labuschagne 16) Anderson is back for his second spell of the day. Three balls in and he's asking for a new ball – and, lo, gets one – as the old one won't fit by the umpire's cookie cutter. Harris picks up a associate by square leg.
01:00
29th over: Australia 90-1 (Harris 26, Labuschagne 16) Root's hands are on his hips at slip. Then he pulls his sleeve over his hand to give the ball a good polish before throwing it back to general. England could do with a bit of magic from somewhere here – a Mark Ramprakash at the MCG grab out of nowhere.
(general incidentally is not in shorts, but trousers that show a fair amount of sock!)
00:52
28th over: Australia 87-1 (Harris 25, Labuschagne 14) Labuschagne is alarmed enough by his waft to quickly turn around to see where it has gone, but it flies well away from Jonny Bairstow at leg slip. Wood then bounces Harris, but he only has to duck the top of his head in greeting and it flies onwards, with Buttler just getting the top of his fingers to it to tip it down to the border.
00:47
27th over: Australia 80-1 (Harris 24, Labuschagne 13) Dib and dab.
00:46
26th over: Australia 76-1 (Harris 21, Labuschagne 12) A tasty over from Mark Wood, quick and sparky, with two balls up to 93mph. In the stands, t-shirts rule despite the rain.
"Hi Tanya." Hello Tony Jennings! "On a scorching hot day at the Bay Oval in Tauranga Bangladesh finally have their second test match win. Congratulations to them. But mystery surrounds Kane Williamson captain of the Black Caps. He has been out of the game with an elbow injury for almost a year. NZ Cricket won't say how he got it, presumably he was hit there by a cricket ball, he has played but then had to stop playing. Tom Latham his stand in is not quite of the same calibre as Williamson. Perhaps he will be back for the second test just a thought."
It sounds nasty doesn't it, I wouldn't fancy a "re-aggravated" elbow problem.
00:39
25th over: Australia 75-1 (Harris 20, Labuschagne 12) Events. Labuschagne first squirts general between third slip and gully for four. Then leg glances -with debatable control – between Buttler and leg slip. Then a huge lbw allurement. general begs with typical Disney animation -but Stokes intervenes: inside edge.
Updated

00:33
24th over: Australia 67-1 (Harris 20, Labuschagne 4) Wood switches ends from his opening spell and takes over from Stokes. Harris's on-excursion slides off with geometrical purity and dribbles over the border rope.
"Afternoon Tanya!" Hello David Warner! "You may have covered this but if Travis Head is cleared tomorrow is he allowed to be a concussion sub? Clearly the continued rain delays have taken me right down the garden path mentally."
Let me just dig by my CA regulation book 64.2b….
00:26
23rd over: Australia 60-1 (Harris 14, Labuschagne 4) general, white bandana, short trousers, powers in.The first keeps low, the fourth is eased by Labuschagne by the covers for four, like a long cool slurp of iced coffee.
00:21
Play!
22nd over: Australia 56-1 (Harris 14, Labuschagne 0) Stokes polishes off the remaining two balls of his over. Gently does it.
Updated

00:19
Appreciation for good housekeeping.
00:13
Ten minutes till the restart
The umpires have just walked off and nodded to Pat Cummins, who is in leisure use and drinking something that looks like a red bull but is probably isotonic vitamin water. Meanwhile David Gower is discussing crosswords and how the Times is more difficult than the Telegraph. I'm not sure if he's talking cryptic or not.
23:58
More rain, alas
This is a such a lovely idea, to raise money for the McGrath Foundation. Buy a virtual seat at the Test – I'm going to get one for my dad who has never (in addition) been to an Ashes Test in Australia – will let you know if it is an easy course of action.
23:34
Coffee is calling from the kitchen.
I like this idea…
23:23
"Enjoying the rain," taps Jim Warwood, a Pom living in Australia for 37 years and "ordinarily having my summers ruined by Ashes series.
"It should average the game is not finished before or during the crucial third day; that should help the McGrath Foundation." (good point, and hopefully McGrath will be out of isolation by then too and able to be at the SCG)
"Wood X Factor: He would be better if he was not so nice, all the short balls are never directed in a way that may hurt the batsman. If he hits them its more because it misbehaves off the pitch and he makes me think of Statham who used to apologise. Now the Aussie bowlers never look at all distressed by it."
23:12
The drizzle, it carries on drizzling, I'm afraid, and it is making Phelim Mcmanamon think of Manchester: "If Mattie Parkinson was bowling on the pitch Australia would be worried."
He would be a fantastic joker to have up your sleeve. Is he ready? I've no idea – but he and Saqib Mahmood had moments of radiance for Lancashire last season. And he's definitely got the big match temperament.
His ball of the century from April:
Updated

23:01
Lovely scenes in the Bangladesh dressing room at Mount Maunganui. I'm reading Scyld Berry's new book which contains a chapter on each Test country. I wasn't aware just how unready Bangladesh were for Test cricket when they were given Test position. Their first-class competition had only been going a year, they'd never won a first-class match and never made a first-class tour. The only country they'd ever beaten in any format was Pakistan in that infamous 1999 World Cup match. No surprise it has been such a battle.
22:52
The covers are being preened and pressed back into position, which gives me an opportunity to bore you with my one Sydney Test story. It was the first time I'd ever been to Australia and I was blown away by how gorgeous Sydney was. I stayed at a friend's house in Paddington, felt like I was living my best life, and then got to see Darren Gough take a hat-trick, centuries from Mark Waugh and Mark Slater and seven wickets for Stuart MacGill. Happy days.
22:44
I speculate one of the reasons they dropped Burns for Crawley is that they reckoned he was a better option at slip. He has an air of competence about him, despite being so tall, not quite Cameron Green, but the slightly cheaper English version. He swallowed that Warner catch really well, despite looking surprised by the fact it came so quickly.
22:37
My colleague Ali Martin tells me the big cover is coming off at the SCG and that it is very, very, humid.
22:30
An early email wings its way from Jimmy McManners: "It's a fair point from Sankaran Krishna about Mark Wood's stats, but there are a few caveats to that. Aside from the stop/start character of his career (plenty of matches played half fit) there is also (and I'm not telling anyone anything they don't know) the "X-Factor" of some bowlers.
"My mate Dave Murphy always says Stokes is a terrible bowler, not fast, nor scary, and with a bowling average of over 30. But… would you want to confront Stokes with his pecker up in a vital part of a game? Botham has a batting average of under 35, but I bet most of those runs were very, very useful ones.
" (And yes, I wrote this so Dave Murphy would react)."
Are you there Dave? I agree btw on Mark Wood's X-factor, it's worth more than a few runs, especially in an attack of same-i-ness.
22:23
Tanya Aldred
Thanks Jonathan! Good morning wet Sydney from wet Manchester. I've put the Christmas tree lights on for the (almost) last time and have a box of tissues and the dog for company. How is it going for you? It's nice to wake up to a day that hasn't , in addition, run away from England.
Updated

22:17

Jonathan Howcroft
This rain delay offers a perfect opportunity for me to hand over the OBO to Tanya Aldred. I'll be back for more shower-dodging tomorrow.
22:14
Rain stops play
22.4 overs: Australia 56-1 (Harris 14, Labuschagne 0) More extras against Stokes' figures, this time five wides for a ball that bounces miles over Harris, and Buttler, and runs away to the sightscreen. And soon afterwards another shower bursts over the SCG, and we're off again.
Updated

22:11
21st over: Australia 51-1 (Harris 14, Labuschagne 0) Warner pushed hard at a delivery at just that awkward length, the kind he'd done well leaving all morning. Surprise breakthrough for England.
Updated

22:10
WICKET! Warner c Crawley b general 30 (Australia 51-1)
Australia were cruising but Stuart general has come back into the attack and bagged his bunny. A copy-and-paste dismissal for the pair, general angling the ball in from around the wicket, Warner thick-edging to second slip. Unexpected in the context of the match, far from it in the history of that duel.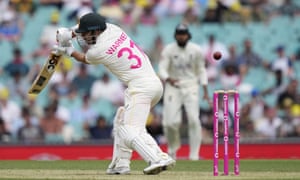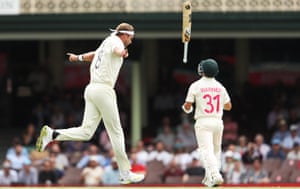 Updated

22:05
20th over: Australia 50-0 (Warner 30, Harris 13) Stokes > Warner > maiden.
Updated



Click: See details