Ashes 2021-22 fifth Test, day two: Australia v England – live! | Sport
00:30
5th over: England 20-1 (Crawley 11, Malan 5)
Starc is complete and wide and Crawley doesn't miss out. It's forward of point and carved comfortably. If you're short or wide, or straight as Starc is next ball, he will deal with you. Okay, it's four leg byes, but the point nevertheless stands! Starc needs to be tighter here and he is: a leave. Crawley then drives splendidly for four past mid off – he's always looking to score. He looks nevertheless, balanced and focused. Twelve from the over.
Ponting on Burns' run out
00:26
4th over: England 8-1 (Crawley 3, Malan 5)
Cummins bowls a ripsnorter past Crawley, and another – both bring him forward and the first has Carey collecting the ball with fingers pointing up. speed, movement, carry. The next is straighter and Crawley whips him to long leg for one. Shades of Sydney in Crawley's confidence there. Cummins is up for an LBW but he quickly withdraws, it pitched outside leg, and Cummins indicated there may have been glove, too. Malan is then hit in the stomach for his trouble. Pain.
00:22
3rd over: England 7-1 (Crawley 2, Malan 5)
Malan is playing Starc from the crease, awkwardly. There's a few play and misses, already as Malan corrects by making a big stride to the ball. Malan earns a reprieve with a half-volley on middle and leg, which he dispatches by mid on for four.
Updated

00:17
2nd over: England 3-1 (Crawley 2, Malan 1)
We're getting a look at snicko, suggesting Burns may have nicked one in Starc's first over. There's a thick spike as the ball passes the bat, but there seems to be a gap between ball and bat. No one on the field was interested. Warne, on Fox, is! Cummins is hitting his area before Crawley takes a quick single and Burns is struggling … we're going to have a look! As you now know, Burns is out, possibly burnt. Cummins takes Malan's edge later on but it escapes the clutches of Khawaja at third slip safely enough. He gets one for it.
00:15
WICKET! Burns run out (Labuschagne) 0 (England 2-1)
Oh no! Crawley dabs to cover, says "yes, yes, wait…", there's a slight stutter, Burns is running to the keeper's end, Marnus swoops on the ball and throws down the stumps fiercely and directly, and Burns is out by a few centimetres. Bad running, exceptional fielding, deflating for England!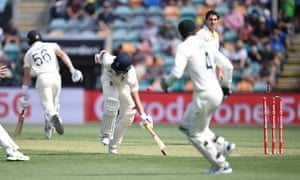 Updated

00:10
1st over: England 0-0 (Burns 0, Crawley 0)
It's Starc to Burns, there's a memory. This one produces no trauma. He's back and defending. The next is a big shout for leg before but turned down. Sliding down leg. Beat him for speed, Burns' leg getting across there too. Australia has three slips, all the usual condiments. He defends, he leaves, he nearly plays on, he plays and misses … but he survives.
That'd be better than Australia!
23:59
Australia all out 303
An entertaining innings – from over 1 to 75 – comes to an end and Australia registers 303. Some may remember this for Travis Head's scintillating run-a-ball hundred, commencing at 12-3 in bowler-friendly conditions, others will remember this innings for Marnus' meme-able dismissal. general finished with 3, as did Wood – who went at nearly six-and-a-half an over. The complete thing was fast and frenetic, and all eyes now turn to England with the bat. Has the wicket flattened, as is the Hobart potential? We'll soon see.
23:56
WICKET! Lyon b general 31 (Australia 303 all out)
Lyon had found a few runs early in the over but he cleared that front leg one time too many. He misses the slog, and it takes his off bail. A fantastic innings from Australia's number 10.
23:52
75th over: Australia 301-9 (Lyon 29, Boland 10)
They're backing Wood, which is fair enough … if they can get Boland on strike, which they can't however. Lyon misses a huge swipe/pull outside off. Will they go again? No need! He carves him behind point for four! He loves the speed. That was deft and stylish! So Wood goes shortish, Lyon lifts it, it's in the air for many, many seconds, Billings sprints 40 metres to attempt the catch but he can't get there! He gets two. Lyon is clearing his leg now and having fun. He belts one but it doesn't get past mid-on, that's one. In the average time, Australia registers 300. Wood is great, except when it's Wood v Lyon.
23:47
74th over: Australia 294-9 (Lyon 22, Boland 10)
general carries on after drinks (which is to say he continues bowling, not that he misbehaves). A scarce quiet over, notable only for a Lyon single.
To sum up that hour, on the scorecard it's probably England's. 3 wickets, 50-strange runs. But Lyon's intervention will have curbed any greed they had for a quick finish to the innings. How much longer can the final wicket last?
23:39
73rd over: Australia 293-9 (Lyon 21, Boland 10)
Can Boland bat? At first to peek briefly, not especially. But following a play and miss he props forward and thickishly edges one past gully for four! Scratch what I said earlier, Boland has just clipped Woakes, Mark Waugh-esque, for four by midwicket! I was wrong. Boland was right. Again. Simon Katich on SEN notes that it's a good sign of the quality of this wicket for batting. England may be buoyed! Two more for Boland. bothersome runs, if you like England.
23:36
72nd over: Australia 282-9 (Lyon 21, Boland 0)
So Lyon gets another win, Wood is removed from the attack. general continues in the absence of Ollie Robinson, whose prognosis looks worse on every report. general wisely eschews the bouncer barrage, so we are treated to many balls dribbling to mid off for no runs. A general yorker goes under Lyon's bat, but misses off stump. The GOAT then gets two to fine leg.
Johnstarbuck's here: "Waiting for the tail to droop isn't doing anything good for my blood pressure, which I'm now taking as I do every morning. It seems, according to TMS, that England are the worse team in regular play for mopping up the tail. Why is this? They used to study each batting bowler's technique e.g. to Denis Lillee, bowl straight." If true, I surprise if it's more to do with other teams investing more in the quality of their lower order bats?
23:30
71st over: Australia 280-9 (Lyon 19, Boland 0)
So Woakes grabs Carey, and Australia's favourite son, Scott Boland, heads to the crease. Australia will have wanted 300 (because it's a round number, I guess), and they may however get there if Wood keeps bumping Lyon. Boland drives the last, square, but can't beat point. Lyon will be on strike.
From Brian: "Good morning Sam, Hope you have solved the smoke alarm issue – possibly set off by the friction of Mark Wood's relentless bumper barrage? Never mind rubbing two sticks together – how about two brain cells?"
I thought Wood's approach was working wonders, he just picked the wrong guy. If you are referring to my brain cells, the horse has bolted.
23:27
WICKET! Carey b Woakes 24 (Australia 280-9)
Bowled! Carey chops on to Woakes. He half-prods forward, but inside edges it onto his stumps. A bit of bounce? It takes leg bail.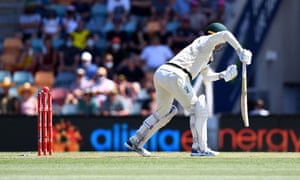 Updated

23:25
70th over: Australia 280-8 (Carey 24, Lyon 19)
The short tactic continues from Wood, but Carey gets inside the line of the third ball and parries it to fine leg for four. He pulls the next to thorough square for one ("good cricket"). Wood gets two at Lyon and he smashes it out of the ground for six! Kids start scurrying out on to the ground to find it. I don't think that landed on the roof, that cleared it! There'll be a new ball now, won't there? These are valuable runs. Wood goes over the wicket – a win for Lyon – but it doesn't matter, Lyon obliterates this one for six too! Straight onto the hill! What a shot, that is sensational batting. Wood was causing fear until this point, Lyon has sat him down. What a riposte. Wood has now conceded 100+ runs.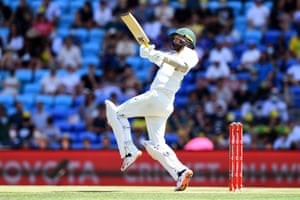 Updated

23:19
69th over: Australia 263-8 (Carey 19, Lyon 7)
Woakes (1-50 off 12) replaces general, and his first is clipped for two by Carey, who pressures the hatless general with his running and elicits the misfield. Same again, but it's just one to general, whose wide brim is now back on. Less fire this over, three from it.
From John Little via email: "For all the naysayers, England are unbeaten this year. More than can be said for Bangladesh, India and New Zealand…. just a matter of perspective." That's the spirit, John.
23:14
68th over: Australia 260-8 (Carey 16, Lyon 7)
So, Wood succeeds against Cummins, bringing Lyon to the crease. Same ball, but Lyon hits down. Wood is now bowling bouncers every delivery, including to Carey. The Australian bats are almost facing chest on, legs wide apart, halfway to the crouch upon release. Wood's at Carey's chest, Carey stays leg side of it, and he slices it – with control – down to third for one. Lyon then pulls Wood for six! It splits Wood and Crawley who were making ground on it. Lyon plays that shot well, one knee up of course. That said, I'm probably backing Wood here. Wood is too short, next delivery.
Updated

23:10
WICKET! Cummins c Crawley b Wood 2
Cummins accepts the invitation to pull, he's not in control, it gets too high on him and Cummins – who slightly took his eye off the ball as he played the shot – hit it straight down Crawley's throat at thorough square. Cummins was in trouble facing Woof from the off… Wood's tactic is working.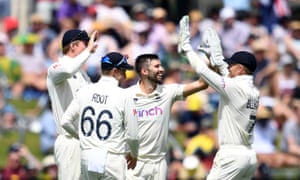 Updated

23:08
67th over: Australia 252-7 (Carey 15, Cummins 2)
Carey chases a wide one from the round-the -wicket general, and his inside edge just misses the stumps. Meanwhile, a smoke alarm is going off inside my house, and it is not for smoke reasons. No one is home. Now I have decisions to make. It is not a battery issue. I think I've solved it. Anyway, Carey hooks one to fine leg for one and Cummins is defending to cover. general sends a fielder to the border and goes short to Cummins who pulls vigorously, achieving one run to thorough square.
I'd ordinarily think the game is quite already, I just have reservations about England's capacity to amass a match-winning score. That said, Root is due, and I'd like to see it.
23:03
66th over: Australia 250-7 (Carey 14, Cummins 1)
The chest-guarded Cummins faces up to Wood, who continues with the short stuff. There's a wide slip, someone at third, and a bat pad. Cummins is uncomfortable. He somehow gets one around the corner for one. Carey's then backing away trying to slap him by the off-side, but missing. Funky fields and tactics now. Carey's back and across to the next, which is also short, and he fends it into space behind square for one. Cummins has the last, and he's jumping then ducking underneath. Whoosh. Cummins laughs as he meets Carey mid-pitch.
22:58
65th over: Australia 248-7 (Carey 13, Cummins 0)
general's in to Carey now. There's two slips and a gully, but no pad pad to Australia's keeper. Carey pulls him sweetly to the border rider for one. Cummins then works one to backward square, via the pad, and Billings hares after it to keep it to one. Carey sees off the last.
22:53
64th over: Australia 246-7 (Carey 12, Cummins 0)
There's a bat pad for Wood now. He nabs Starc as described. Cummins is next, and Wood is wayward down the legside but Billings gloves it brilliantly, sprawling to his left. Wood is clearly trying to shorten him up, as Cummins ducks another. So Wood comes around the wicket and he hits Cummins. The skipper wanted to duck, it wasn't that high, and it careers into (what looks like) his forearm.
22:50
WICKET! Starc c Burns b Wood 3 (Australia 246/7)
Wood bangs it in short, Starc is late on it – he top edges it and it's caught by a backwards-running Rory Burns at square leg, easy as you like. Starc looked uncomfortable facing Wood, and Wood gets his man.
Updated

22:47
63rd over: Australia 246-6 (Carey 12, Starc 3)
general's too straight, allowing Carey to tuck him off his hip to square leg for one. Some chat on radio here about who's ahead … most agree Australia are by virtue of England missing their opportunity in the first session. Must be said the pitch does now seem decidedly more docile than yesterday. Mike Atherton is also noting that there were some whispers that Craig Overton was set to play yesterday, before Ollie Robinson was included last-minute. I write this as we watch Ben Stokes seek an inspection of the pink ball from the umpire however again. The cricket's back on, and Starc looks far more comfortable coming forward to general than the guy at the other end. Something's going on here … general has to pull out of his run-up, just before his gather, and he's immensely put off by the Fox SpiderCam, or FoxCam, or in any case it's called. He remonstrates with it. Michael Vaughan laughs nervously, before they cut to SpiderCam.
22:42
62nd over: Australia 244-6 (Carey 11, Starc 2)
Wood's first is timed quite nicely off Starc's pads for one. Wood's running in hard – though I suppose he always is. Carey gets one to fine leg. His partner Starc rides a throat ball into the ground quite easily, prods the next to mid-on looking a little jumpy, and that's the over.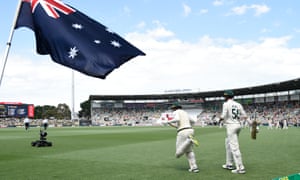 22:37
61st over: Australia 242-6 (Carey 10, Starc 1)
general accompanies Wood. Starc drives handsomely early on but Stokes moves around at mid off and throws the stumps down, too. Starc gets one for his trouble and is off the mark. Carey is trying to excursion the next, but can't beat mid off. The next one is in the same area: Carey leaves, deliberately.
22:32
60th over: Australia 241-6 (Carey 10, Starc 0)
Wood starts with a pretty sharp yorker to Carey, he jams it to square leg. Only three balls in this over, not a bad one to start with. Next one beats Carey all ends up, huge popularity, Wood is arm aloft celebrating … but then there's doubt, and no review, and replays confirm Carey was nowhere near it. Carey defends the last to mid-off.
I said it was cloudy on screen. Well, the sun's out now! Jerusalem is rung and sung. We're away.
22:28
Acquaint yourself with the state of things with Geoff Lemon's piece from yesterday …
22:25
Weather update
90% chance of rain (1-3mm), cloudy, any rain will be late afternoon, evening.
It looks cloudy on screen, but everything's in readiness to start on time.
22:23
Looks like Ollie Robinson is struggling…
22:15
Preamble

Sam Perry
Morning, afternoon, evening all. Well, we were treated to a whirlwind yesterday, weren't we? From 12-3 and calls for Bellerive to be stripped of Test position, to a run-a-ball hundred from Head, to further delivery of The Cam Green potential, and that ceaseless surprise about what James Anderson could and would have done with it all.
All in all, Australia finished with 241-6 – a scoreline most would be satisfied with after a complete day's play, only that this was achieved in 59.3 overs. Perhaps this isn't quite the Chief Executive's Wicket expected ahead of the game.
Nevertheless, both teams will be hoping to push things on today. For Australia, quick runs and a shot at England under lights, and for England, crossed fingers that the Bellerive wicket does flatten out, as is the local potential.
How are you seeing things from your vantage point? Let me know via email at [email protected] or on the Twitters @sjjperry.
Weather and other preliminary material up next…


Click: See details